The one-day National Webinar on "Nanotechnology in Healthcare: Opportunities and Challenges was organized by Department of Pharmaceutics, Institute of Pharmacy, Nirma University in association with Controlled Release Society Indian Chapter (CRSIC) on 28th October 2021.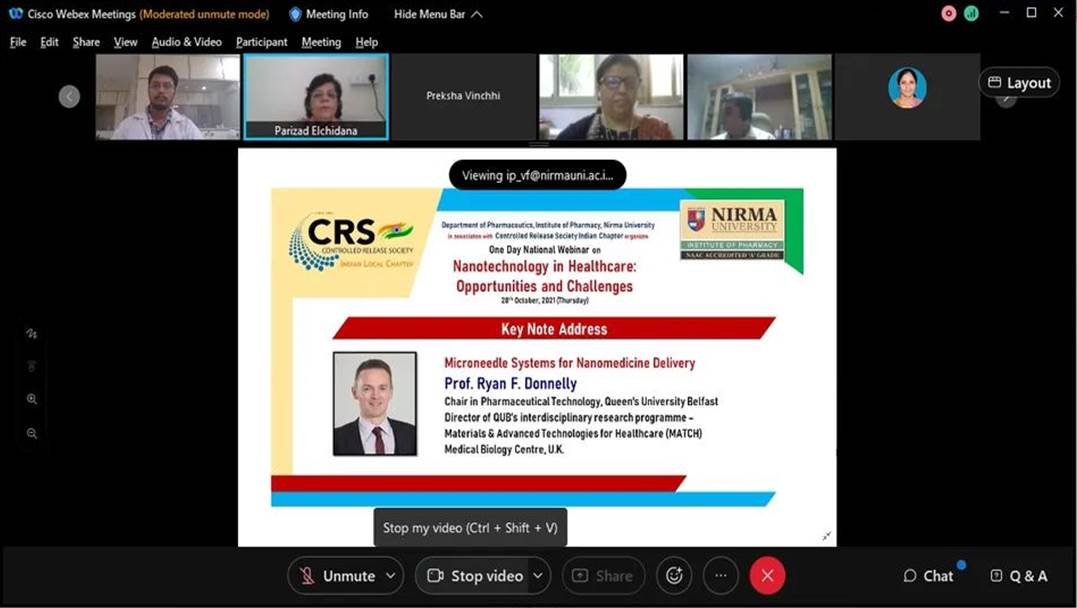 The webinar commenced with the inaugural function. Dr. Manjunath Ghate-Convener of the event and Director, Institute of Pharmacy, Nirma University, gave the welcome address by appreciating the presence of all the eminent guests and speakers. He conveyed the importance of conducting this type of seminars and the importance of nanotechnology to fight against several outrageous diseases. Dr. Parizad Elchidana-President, CRS-IC Executive committee (Principal technical Consultant-Pharma, ACG Worldwide, Mumbai), gave the introductory remark and also gave information regarding CRS-IC. Dr. Vandana Patravale-Vice President, CRS-IC Executive committee (Convener of the event and Professor in Pharmaceutics, Institute of Chemical Technology, Mumbai), talked about CRS activities. She also acknowledged IPNU for taking initiative for collaborating and conducting this joint webinar. Dr. Tejal Mehta- Organizing secretory (Prof. and HOD, Department of Pharmaceutics, Institute of Pharmacy, Nirma University), extended her warm welcome and gave the information about the event. The chief guest of the inaugural function Prof. Dulal Panda (Director, NIPER Mohali, Punjab, India) provided an outlook on the importance and requirement of nanotechnology to alleviate various diseases. He also emphasized on the need of conducting this type of webinars for strengthening the research. Dr. Anup Singh (Director General, Nirma University) delivered the presidential address in which he spoke about the need of developing novel drug delivery systems pertaining to rise in number of diseases. He also congratulated IPNU for conducting this webinar and also welcomed all the members.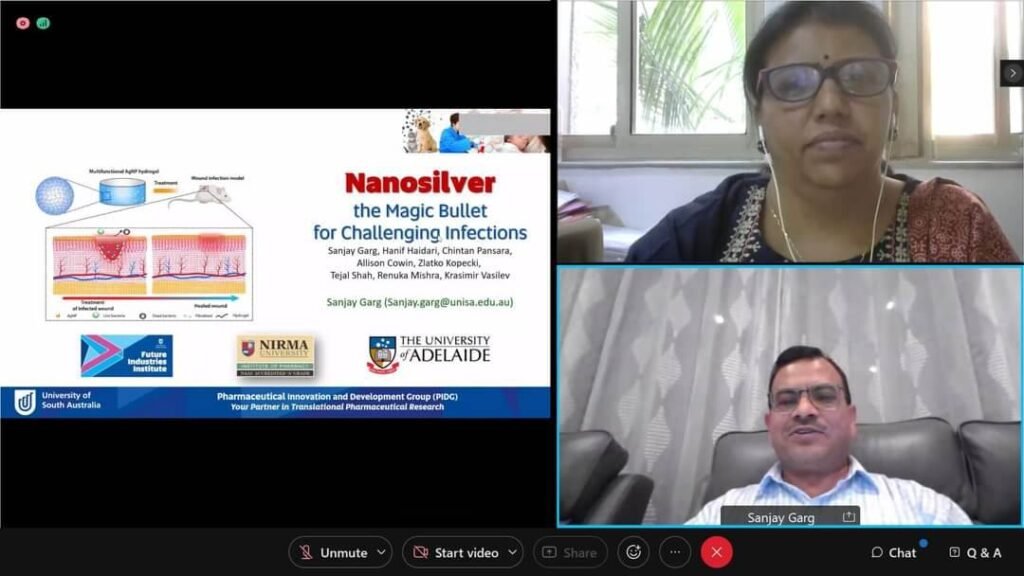 Eminent speakers from India and across the globe shared their insight into the evolving area of nanotechnology in healthcare. The scientific session was started with the Key Note Address of Prof Ryan F. Donelly (Chair in Pharmaceutical Technology, Queens University Belfast, Director of QUB's interdisciplinary research programme – Materials & Advanced Technologies for Healthcare (MATCH) Medical Biology Centre, U.K). He also delivered a remarkable presentation on the topic entitled "Microneedle Systems for Nanomedicine Delivery". Insights into unique microneedle array patches and high dose dissolving microneedles used to deliver long-acting nanoparticles into viable skin layers were given. The lecture was indeed very informative and ended with a very interactive question answer session. The webinar proceeded with the next session by Dr. Sanjay Garg (Professor of Pharmaceutical sciences UniSA: Clinical and Health Sciences, University of South Australia City West Campus, HB6-11, Adelaide, SA, Australia). Sir gave a brief about his work on nanotechnology which was followed by an outstanding presentation by his two PhD students Hanif and Chintan on the topic "Nanosilver: the magic bullet for challenging infections". Further, Prof. Tin Wui Wong (Professor, Non-Destructive Biomedical and Pharmaceutical Research Centre, Smart Manufacturing Research Institute, Universiti Teknologi MARA, Selangor, Malaysia) delivered a very informative lecture on the "Pharmaceutical technology and its Roles in Precision Medicine Development". Thereafter, Dr. Amirali Popat (Director of Research School of Pharmacy, The University of Queensland Brisbane, Australia) delivered an outstanding lecture on Silica nanoparticles for overcoming biological barriers for drug delivery. Next scientific session was conducted by Dr. Ajay Khopade (Vice President R&D Formulations (Non-Oral) Sun Pharmaceutical Industries Ltd.), on the topic Nanoformulation strategies for improved patient compliance. Sir provided detailed insights regarding various ophthalmic marketed products and highlighted the use of several excipients that led to development of several formulations with better patient compliance. Dr. Vandana Patravale delivered a lecture on topic entitled Nanotechnology in diagnosis, prophylaxis, and treatment: case studies. She provided an outlook that catering to infectious diseases is of utmost importance right now, especially after witnessing the socio-economic impact of the ongoing COVID-19 pandemic. The presentation comprised of detailed discussion of case studies from VBP Research Group encompassing novel nanotechnology-based strategies pertaining to diagnosis, prophylaxis as well as therapy of infectious diseases.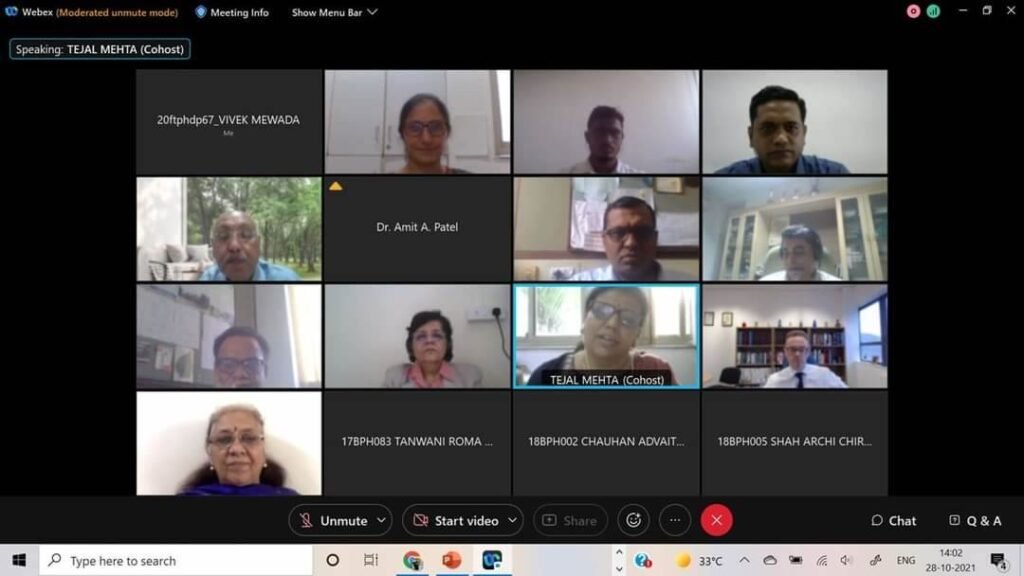 Apart from this, researchers had an opportunity to present their research work and the same was selected preliminary on the basis of their abstract of work and video presentation relating to the same. With a total of 33 abstracts shortlisted, the research area presented by different participants ranged from gene editing nanotechnology for age related macular degeneration to nanoformulations for cancer. The research presented was not only limited to conventional drug delivery system but also to controlled release, metallic nanoformulations and emerging technologies like nanofibers. Research titled "CRISPR Nanomedicine for the Management of Age-Related Macular Degeneration" was awarded first prize, second prize was awarded to research titled "Smart Nanoarchitectural Gel of Posaconazole" and third prize was awarded to "Synthesis of Hollow Gold Nanoparticles- Impact of Variables and Optimization Studies". Overall the papers presented gave all the participants an opportunity to learn and understand the research taking place in thrust areas. Around 300 participants has attended the webinar.
The programme ended with concluding remarks by Dr. Yashwant Pathak, Professor and Associate Dean for Faculty Affairs, USF Health Taneja College of Pharmacy, University of South Florida, USA as Chief Guest of Valedictory function. He highlighted the future opportunities of nano drug delivery in curing life threatening diseases. Overall, the webinar was found very informative and useful by all the participants
Dr. Tejal Mehta
Organizing Secretary
Institute of Pharmacy
Nirma University